Day 24 of 24 :)
Thank you once again to everyone who joined me on this journey.
I really would not have seen this to the end without your support.
Day 20 of 24 - Mt Eden
28/05 Weather wasn't too great, but that didn't stop us. Another beautiful view of Auckland city.
Day 19 of 24 - Mangemangeroa Reserve
26/5 Slow stroll through Mangemangeroa Reserve
Final Week! Lets Go!
Day 14,15,16 and 17 have been walks outside when the weather held up and when it didn't, it was back to the gym.
It has been an amazing experience thus far, and I can't wait to see this through. #eyesontheprize #nearlythere #yess
Day 13 of 24 - Kariotahi Beach
20/05 - 10,170 steps
By the time we arrived, the sun had set and the beach cleared. Perfect Fiji timing lol. My s9 plus did quite a good job capturing this photo and some(see in gallery below). From 6 to 7pm, my two friends (thank you again) watched out for me while i did my step count at #kariotahibeach. Just me with the sounds of the crashing waves, the impatient rushing of the winds under the moon and stars. Surreal! And i was cautiously reminded of the greater force that exists. Definitely my best experience so far during this challenge.
Day 12 of 24 - Mt Eden Stadium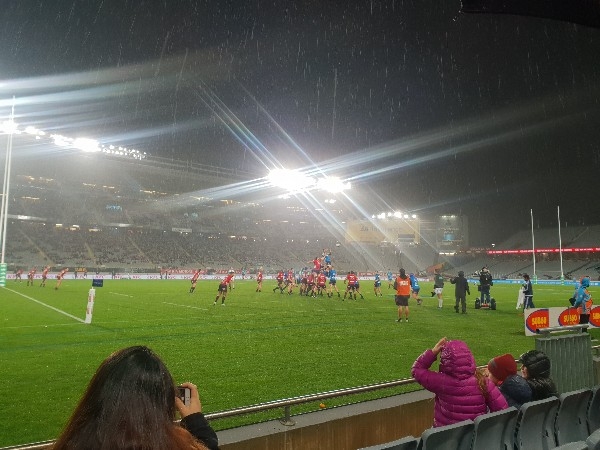 19/05 Braved the rain to get front row seats to the Crusaders vs Blues game. #hardcorefans
My day 12 step count started with zumba class in the morning and walked around the Mt Eden stadium in the evening to reach my target.
Day 10 & 11 of 24
18/05 Yesterday and today combined i achieved 21,699 #yay
A collegue of mine asked me today, if it was easy doing 10,000 steps a day. Had he asked me on day 1, i would have replied instantly with "easy peasy", but 11 days later my answer was "not at all!".
For the last week, ive just been on the go from the get go (work, steps, home etc), but this shot reminded me to slow down and remember to, as they say "smell the roses" sometimes.
You can be full on busy with a lot of things, just don't forget to appreciate the little things as you go.
Day 9 of 24 - Walked to work
16/05 photo taken at 6.45am
I didn't take my car to work today. I was lucky it only drizzled a little when it could have easily rained heavily. Reached work on time and also arrived home early. First time ever to walk to and from work. #lovingtheexperience Today i also recorded the highest number of steps in one day 16,895
Day 7&8 of 24 - Gym
Yesterday and today was at the gym, walking, running on treadmill and finishing off with a zumba class.
Day 6 of 24 - Totara Park
13/05 Apprecating nature at Totara Park today clocking in another 10k step count.
Day 5 of 24 - Auckland City Harbour
Completed my steps today along Auckland city harbour.
Day 4 of 24
Target achieved @ 1915hrs
Thank you once again to my lovely friends for todays donations. xox
Day 3 of 24
Ive started:)
Reached my target today, but i will need to make up for the 20,000 steps for the first two days. #slowlybutsurely.
Hello friends and family!
I have joined Red Cross Journey because I am inspired by the good work of New Zealand Red Cross. From 8-31 May I will be counting my daily steps to reach my step target. As I reach milestones in my step challenge, I'll get updates on the real journey of Carma, a Red Cross member volunteering in her community. Coming from Hawke's Bay, Carma started selling pre-loved items in a Red Cross Shop, but she quickly developed a passion for the entire work of Red Cross and its principles – so much so that she joined her local Disaster Welfare and Support Team, one of Red Cross' most demanding roles!
Please support me in this challenge by making a secure donation to my fundraising page. Donate now and you too can support New Zealand Red Cross to help vulnerable people at home and overseas.
When you help me to raise money for New Zealand Red Cross, you're contributing to the Red Cross response to disasters like the November 2016 earthquake, to community development programmes, support for former refugees, community transport, teaching life-saving skills to children, delivering Meals on Wheels and much more.
Thank you in advance for your generosity so, together we can help Red Cross support people in need in New Zealand and overseas.