Step 1
Follow a journey
Step 2
Collect your kilometres

Step 3
Raise funds to help others
Join Red Cross Journey, a fundraising challenge with a difference.
You will learn about real-life stories of people who have been forced to flee their homes.
Collect your kilometres your own way; walk, run, bike, swim or even skate!
Just a $10 donation to register, or free if you purchase our awesome products.
You can join as an individual, team or school group.
New Zealand Red Cross is there to help people affected by conflict or disaster, both overseas and here at home in Aotearoa. Your donation goes to where the need is greatest, helping the people who need it most; providing aid when disaster strikes, supporting vulnerable people in our communities, reuniting loved ones or giving a warm Kiwi welcome to former refugees.
New Zealand Red Cross is the primary provider of refugee resettlement in Aotearoa, supporting and empowering new Kiwis as they rebuild their lives. As you collect your kilometres, you will recieve email updates about former refugees who have taken extraordinary journeys to get here, and are now making a vital contribution to our country.
We deploy delegates overseas to help, often in temporary camps, who specialise in areas including health, IT or water sanitation. On your journey, you will read stories from the perspective of our delegates who have been working in affected zones around the world, and helping people in their hour of need.
Step up to help people in need.
Step 1
Follow a journey
Choose the journey that suits you. If you are taking part as an invidual the 80km Naf River to Cox's Bazaar journey is the advised option, if you want more of a challenge then go for the 145km Damascus to Beirut. If you are joining a team, the 425km Afghanistan to Pakistan is great, or if you want to really go the distance then the 1,175km Myanmar to Thailand is for the avid fitness folk!
Step 2
Collect your kilometres
Collect your kilomteres as you follow the journey to safety. You can use your app of choice; Fitbit, Map My Fitness, Strava or even an old-school pedometer! We will also have a kilometre conversion chart so that you can count your housework or gardening.
Step 3
Raise funds to help others
Ask your friends and family to sponsor you for taking on this challenge! Share your updates on your social media channels. If you join as an indivudual or a team, you'll be fundraising to help people in crisis. We have heaps of help on our hints and tips page to get you fundraising like a pro!
Brianna, university student
'It opened my eyes to the hardship that this family and many others have to go through in order to feel safe. The videos throughout the journey showed the amazing work that Red Cross does to help the families settle and become involved in the communities they are placed in.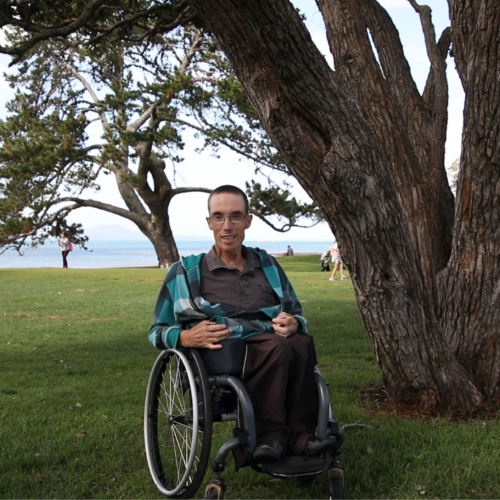 Matt, Red Cross volunteer
Matt took part in Red Cross Journey his own way, he decided to take 2km per day in his wheelchair while following the journey. If you would like to take part in your own way, please get in touch! redcrossjourney@redcross.org.nz or 0800 RED CROSS (733 27677).
Brad Shields, rugby player
Our friend Brad Shields, previous Hurricanes captain, helped us raise vital funds by stepping up and leading by example! Thanks Brad!
"It's a fun challenge and it's all for a good cause. It will definitely be interesting to see how many steps I do during training each week!"
Aziz Al-Sa'afin, AM Show presenter
"Join me doing Red Cross Journey. As a former refugee, I know the good work Red Cross does here and around the world, so I'm happy to support Red Cross through this event. And doing this will be good to get me active at the beginning of spring!"